I've finally joined the craze (a year too late).
---
Hello, people of the internet!
Right. Hamilton.
THE BEST PIECE OF ART IN ANY FORM THAT I'VE EVER SEEN.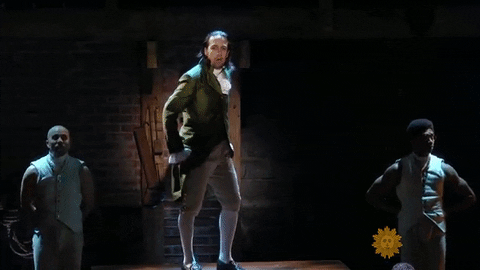 So before reaching this point in my obsession over the best Broadway musical so far, I went through a lot of different stages. Since I live in India, there was no way for me to watch the whole thing on stage – so I did the next best thing. I listened to the whole soundtrack (it's on Spotify, and iTunes.)
Anyway, here's the stages of my Hamilton obsession:
1. "What the hell is this thing?"
I saw pictures of Hamilton all over the internet. There were GIFs, text posts, people fangirling over it in general. I didn't get it. A hip-hop musical about American history? Why was it so popular? It sounds so lame. Broadway audiences must be idiots.
 2. "Fine, maybe I'll just Google it and see what the fuss is about…"
I mean, it can't hurt to, right? I have nothing better to do anyways. So I googled it up, and found Lin Manuel Miranda's performance of "Alexander Hamilton". At first, it seemed a bit slow or whatever, but I watched it a couple times again and it was so catchy. Just thinking about it gets it stuck in my head. The lyrics, the passion it's sung with, the actors' costumes… it's awesome. (You can watch the performance here, if you haven't yet. Trust me, you won't regret it.)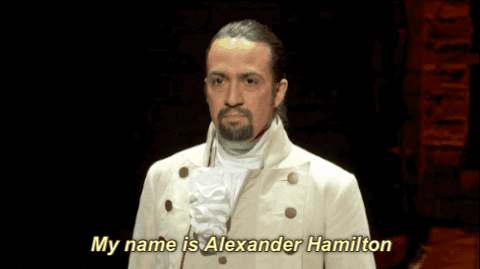 3. "Okay, so that song was awesome. But there's a whole soundtrack, right? Let me check out the other ones."
Since Hamilton is a sung-through show, the cast recording was available as an album on iTunes and Spotify. (I listened to it on Soundcloud.) I suppose it was a bit underwhelming at first, because I couldn't see the actors and didn't really get the feel of what was going on – but I kept listening. I loved the way the lyrics were so minute and descriptive, and the hip-hop style of music was really catchy. Slowly, I realized that Hamilton's story was unfolding on a huge scale.
4. "THIS IS WHAT I HAVE BEEN MISSING MY WHOLE LIFE."
I listened to the cast recording like 10 times because it was just so… fantabulous. (Yes that is totally a word shut up.)
I laughed so much at all rapid-fire dialogue, the puns related to historic events, references to contemporary pop and hip-hop music. So much happened at once that it was hard to keep up with what was happening to each character. So, of course, I had to listen to it again. And again.
I loved all the funny, quick songs – like "My Shot", or Eliza and Angelica's (and Peggy!) calling for witty women in "The Schuyler Sisters". The second half was full of sadness and angst and tragedy and it made me cry –  when Eliza sang "Burn", expressing all the betrayal she felt, it broke my heart. And then in "It's Quiet Uptown"… asdfghjkl the feels. No parent should have to go through a child's death, and for Eliza it was so soon after a different heartbreak D:
5. "I need more. HELP ME, INTERNET."
I looked on every website I could find for Hamilton GIFs and pictures and clips – thank you, Tumblr and YouTube. Seeing all the costumes and the dances and actors helped me piece together a better version of Hamilton in my mind. The stark period costumes they wore in the play were completely contrasted to the hip-hop music.
6. "What are Lafayette, Washington, Jefferson and Burr even up to?"
In India, we don't really study much of American history. Like sure, we know the basics, but not the details. So after ages of trying to figure out what they were even doing, I had to turn to Wikipedia for the answers.
I learnt a lot about the Battle of Yorktown, the Federalist Papers, and lots of other 18th-century stuff. I stopped after that because it got a bit boring (lol).
7. "Okay but the lyrics."
I pored over genius.com's in-depth analysis of all the lyrics, and memorized my favorite songs (Alexander Hamilton, My Shot, The Schuyler Sisters, Wait For It), watched all of Lin-Manuel Miranda's interviews (there's this one with Emma Watson where they classify Hamilton characters into Hogwarts houses) and generally obsessed over it. (I don't regret a minute of it, though.)

Have you watched Hamilton? Have you heard the soundtrack? Do you love it as much as Eliza loves Alex?? Did it break your heart and put it together again, like Eliza and Alex??? Have you memorized any of the songs? Which are your favorites???? Tell me everything in the comments.