no, fanfiction is not just 11-year-olds writing bad smut
---
Hello, people of the internet!
If you're a millennial, and part of a fandom, you've probably read – or at least glanced at – some fanfiction. But lots of people dismiss it as plagiarism and meaningless, explicit, smut. While there might be some sexual content in a few fanfictions, that is not the only thing there is and the whole community shouldn't be judged based on them. There are so many beautifully written fanfictions that are about the feelings, the psychological profiles, and chaste relationships of characters. I've come up with a list of reasons why fanfiction is not a joke, but a revolution.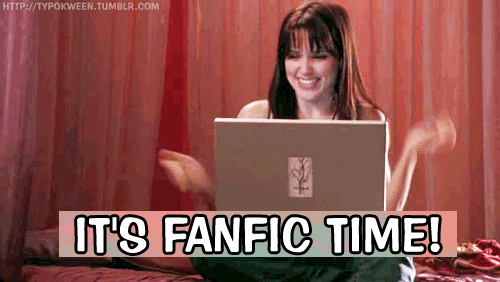 Fanfiction provides satisfaction.
Maybe the stories aren't fully canon, or approved by the creator, but it keeps the reader satisfied (except me, cause i'll never be satisfied~) until more content is released. Suppose there's a one year gap between the release of a book or movie in a series/season in a TV show. Of course, you'll be really excited for the new release – but sometimes you crave more of that fandom. And what better way to get more than through fanfiction?
Fanfiction writers are the literal best.
Most fanfic authors are just so nice?? I cry. They're accepting of everyone, and whenever there's a natural disaster – or a similar crisis – they will fight for it. In 2011, fandom writers and artists raised over $110,000 for earthquake aid in Japan. Members of the Teen Wolf fandom (wolfies?) raised almost $20,000 for Wolf Haven International. They have strong opinions and aren't afraid to tell them to people. (ง'̀-'́)ง
Fanfiction cultivates creative, tech-savvy women.
Even though there are a lot of guys who write fanfic, most of them are teen girls (there are lots of adult women, too). Writing fanfic, or even drawing comics for fanfiction (yes it counts), helps them grow and learn new stuff. They teach each other code, how to use video editing software (to all the fans who make Hamilton animatics: I LOVE YOU), and how to make beautiful graphics. It teaches girls to be more tech-savvy and curious.
Fanfiction fixes things, like lack of representation
Imagine you're reading a book. (Or watching a movie, or a TV show.) You're holding your breath with anticipation for what lies on the next page – only to discover that one of your favorite characters has been killed off. You cry. If I was making this, they would still be alive, you think.
When something awful happens, fanfiction is a great way to rewrite history. It helps you take control of something, to take two already existing characters and make them do what you want to. (Okay, that came out wrong.) It also adds more representation in fandom: all the cute non-can gay ships (laurens x hamilton, draco x harry, etc., etc.), or OCs (original characters) of color, are great and should be more appreciated. (Especially Lams. Historically, the ship is accurate.)
Lots of famous authors got their ideas by writing fanfiction.
There are so very many books that are based off of fanfiction. The Mortal Instruments, by Cassandra Clare, started off as a Ginny x Draco fic – come to think of it, you can notice similarities. Ginny and Clary both have bright red hair and are #sassy. Jace and Draco are both natural platinum blondes who are #classy. Even Fifty Shades of Grey started off as a Twilight-inspired fanfiction. There are lots of fanfictions that people deemed good enough to be published, too: like Wattpad author Anna Todd's One Direction fanfic, After, got selected by Simon and Schuster to be published. (Surprising, I know.)
Anyways, the main point of this post was: don't hate on fanfiction for no reason. (Unless it's really bad. Like, "My Immortal" bad.)
What about you? Do you love fanfiction? Do you write fanfiction? Do you hate the idea of it, or think that it's plagiarism? Do you not have an opinion on the topic at all??? TALK TO ME.