Hello, fellow bookworms of the internet!
Originality is rare. There are so many books in the world; obviously they'll have some overlapping features. But you know those things that make you SO FLIPPING MAD every time you see it in a book?? Because you've seen it SO MANY FLIPPING TIMES??
I'll be talking about the cliches which I HATE*. Also, just to be clear, I'm not saying that each and every example of such a trope is terrible. Some books pull it off wonderfully! But others,, don't. And because it's more fun to roast things, I'm discussing the bad parts. (I'm so shady.)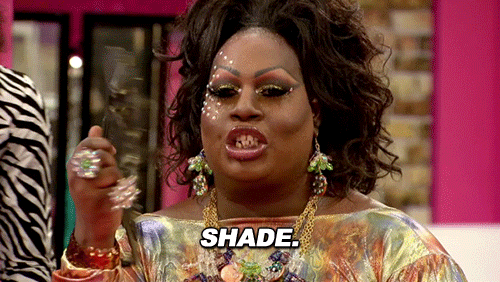 *make that "strongly dislike". hate is a very strong word and I am not a hateful person!! I am a ferocious tiger!!! sorry for clickbait.

Look, this was the most obvious one. When executed properly, (like Cassandra Clare's books) they're GREAT. Love 'em. But when they're shoved into a book for no particular reason?? UGH. NO.
When I'm reading fantasy, I want the action and the magic and the "fantasy" elements. Do you know how annoying it is to be reading a fight scene and then suddenly two guys just start fighting over being the first to save a girl?? It's so CLICHED and EXAGGERATED aghhhhh.
As we're talking about common tropes, let's discuss the most overdone form of a love triangle:
do you see how this is wrong?? for SO MANY reasons??? For starters, if the nice guy really was the girl's best friend, then he wouldn't interfere in her love life. (Probably.) THIS IS NOT REALISTIC, OKAY.
ugh I'm done with this trope.

Let's set the scene: a bunch of kids find out about a mysterious secret world that they are somehow a part of. They go on a mission to figure out some stuff and also hopefully defeat the bad guy. They're away from home for multiple weeks. When they come back, their parents don't say a thing.
HOW IS THIS POSSIBLE?? My mom gets panicky when I'm out after 9:00 pm, and you expect me to believe that these parents literally don't even know that their kids are gone??? I mean, yeah, there are some parents who are like that – but not all. Most would probably be calling the cops if their kid didn't come home for days! This trope isn't that common but I do see it from time to time?? AND IT ANNOYS ME SO MUCH.
(Also you should read the Secret Series it's great and extremely realistic the parents in it actually act like parents.)

This was probably expected – I am very vocal about the fact that I DESPISE insta-love in books. Like with all the other tropes, its 1) not realistic AT ALL and 2) so overdone its not even funny??
For a relationship to bloom (??) you need time. Love takes time. (Which is what insta-love fails to understand.) You don't just fall in love with someone as soon as you see them! That's not love, that's thinking that they're hot!!
Mostly what happens (according to me): our main girl character meets a random dude. She then goes back to her best friend and fangirls all about him. The main girl ends up saying "I love you" to the random dude in like two days, when actually there's more chemistry between her and her best friend?? I do not comprehend these heteros.

Diversity in books is awesome! I love it, there should be more, give me all them diverse books. But there is a problem: when books try to force diversity into their books to attempt to seem "in trend".
Sometimes, authors just shove in extra characters who come from a different background (say, India) just so they can claim that it's diverse. But then the character is hardly developed any further. I can even think about an example from a TV show! In Riverdale, Kevin is literally just there to Be Gay. That's it. And it's so. annoying.
In my opinion, no diversity is much better than forced diversity! Readers look forward to diverse books because it gives them a chance to see themselves in what they read: that's not possible when the representation is completely off!
Now, this isn't really a recurring trope? It's not even a trope. But it's something I really, really hate in books. (Also May wrote a great post entirely about this which you should go read now.)

We all know this one: that one really good-looking, hunky, so called "perfect" character in the book. It's usually the one that the main character is lusting after – or maybe they are the main character! Wow!!
The main reason this gets on my nerves? The lack of variation in body types. NORMAL PEOPLE DO NOT HAVE EIGHT PACKS! (Unless they're like Harrison Ford or something.) And the characters in these books are usually teenagers – where in the hell would they get time to study, keep up with classwork, do extra-curriculars because they're "quirky", AND maintain a figure??
Look, all I'm asking for is representation in body types. I think that's fair?? There are lots of different types of people, with different types of bodies – media should showcase more of this, okay?
(Also how is it possible that they are not plagued by skin problems and don't wear make up?? These are TEENAGERS. Where is reality??)

THIS IS REALLY FREAKING ANNOYING OKAY. HEAR ME OUT.
Every single scene in which the main characters go outside in a contemporary novel, tHERE IS NO MENTION OF BUGS. (Not in every book, but most.) Picture our protagonist and their love interest going to an open field, grassy and beautiful and perfect, staring up at the sky. It's sweet and romantic, I know – but also where the hell are the bugs??
If this was in real life, they would most definitely have bugs crawling all over them. (I speak from experience.) Like, girl, you ain't fooling me – I know your legs are getting eaten alive by ants! Why is it so hard to mention these simple things in books???

For this character (usually a girl, but it can go either way), they are the most hideous creature on the planet. They constantly stare at themselves in the mirror and groan at their "terrible" looks, they complain to their friends, and basically anyone who will listen.
bUT THEN IT ALL CHANGES. They meet their love interest, are shocked that anyone actually likes them, but then rolls with it and learns to accept that they are in fact beautiful.
There's nothing wrong with this at first glance (lots of people have low self-esteem, and sometimes need a boost of love to help them feel better) but it's so overdone?? I've seen it loads of books and I just want to SCREAM when it happens.
The number has died down, though: something I'm glad for. WHY CAN'T THESE OBVIOUSLY PERFECT CHARACTERS JUST ACCEPT THAT THEY HAVE ATTRACTIVE FEATURES.

You can't just pigeonhole people into being evil! Heritage or class isn't what makes someone "bad", or the "villain"; it's their motives and thoughts that do. So when books just classify characters as evil because they're associated with someone that is, I feel like slamming my head on the wall. (Or maybe something slightly less violent.)
Example: when people immediately assume that all Slytherins are evil, simply because they're Slytherins. I'm sorry, bUT EXCUSE YOU. To be a Slytherin means to be ambitious and willing to do anything to reach your goal. IT DOES NOT MEAN THAT YOU'RE EVIL. (Harry was almost a Slytherin, too?? Don't forget that???)
Also, in the real world, people are hardly labeled as good or bad. Like everything, they're in shades of grey: which is what most books should portray. (And lots do. It's just some that have these tropes.)
---
What's the thing about books that annoys YOU the most?? Do you agree that authors need to tone it down with the cliches? Can you think of any books with these tropes that actually aren't that bad??? (I need to read them!)