Hello, people of the internet!
I'm a huge sap. (Shocker!!) Side effects of being a sap: there are some cliches or tropes that I will see in books over and over again, but NEVER get tired of seeing them. A while back, I actually talked about some of the cliches I hate – so I decided to be fair and write something about the tropes I love. (and expose myself for huge marshmallow I actually am.)
Ooh, and I'll also mention some of my favourite books which have these tropes! I MUST FORCE EVERYONE TO READ THESE BOOKS. 
We're starting with the most cliche of them all! Seriously though, there's nothing like a good hate-love relationship. Because you'll stan them from day one, every single interaction between them will get you squealing for joy. (based on personal experience.) Also, I'm one of those strange people who likes angst more than fluff?? DON'T GET ME WRONG I LOVE FLUFF. But sometimes you just want a good cry. And angsty relationships are my jam. 
I will never tire of seeing two characters go from hating each other, to tentatively feeling out a friendship, to slowly developing feelings for each other and then falling in love. It's painfully cliche and I want to see it everywhere.
Books I'd recommend:
Kind of vague, but I love it when a character has to pretend to be something they're not in order to get something. Does that make sense? It probably doesn't?? Okay let's try again. You know how in most historic/steampunk YA, the female lead has to dress up as someone else to be allowed to do a particular task? That's one of my favourite tropes. Not because of how sexist the whole thing is; but because of how the sexism is tackled.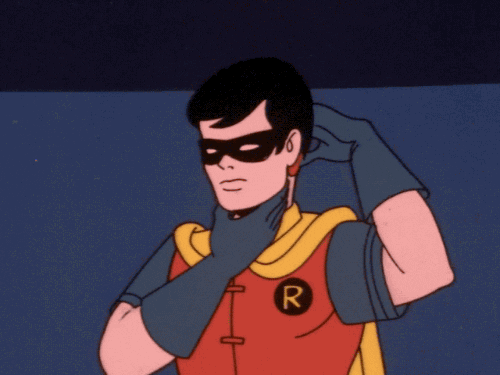 And usually this is followed by a love interest who doesn't actually know that the person is in disguise?? We all love the ship anyway. (This, kids, is known as the Mulan effect.)
Books I'd recommend:
y'know, I just realised that all of these were historical fiction. heh.
SKJSKJSKJS THIS IS PROBABLY THE CHEESIEST ON THE LIST.
There's nothing like a cute, embarassing situation that forces your OTP into a fake relationship to have them finally realize their true feelings for each other – AND I AM AN ABSOLUTE SUCKER FOR WHENEVER THIS TROPE OCCURS. Everything is just so cute and fluffy and mutual pining and I mean, yeah, angst, but whatever. The road to happiness is a hard one.
To be honest this is way more prevalent in fanfiction?? WHO CARES. I LOVE IT EITHER WAY. gimme all the fake dating YA novels now pls.
Books I'd recommend:
GIVE ME ALL THE SWEET FRIENDSHIP. THE BONDING. THE HUGS, THE LOVE, THE ADORABLENESS. I LOVE SQUADS AND GANGS AND WOULD WILLINGLY DIE FOR THEM.
So we see this in almost every YA book ever – the main character has a group of friends whom they love to be around and they all have amazingly witty conversations. Cliched, yes, but absolutely freaking lovely. Just seeing the amount of love pour out from each one of them, and seeing them hold each other up, and seeing platonic relationships that are so so much stronger than romantic ones – it all makes me really happy ❤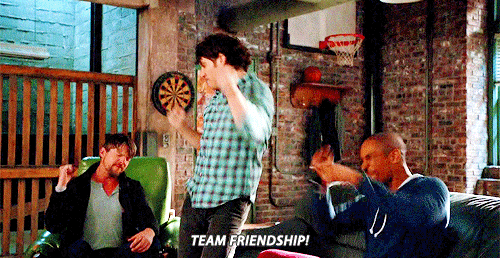 (Also it makes up for the fact that I actually do not have a squad irl. ah, well.)
Books I'd recommend:
okay okay okay. this is probably the most overdone of them all. But there's something so intriguing about it if done well???
This is mostly paired with the "chosen one" trope but tbh I'm kind of sick of that by now. What I'm talking about is when a character thinks they're just an oddball, but then something happens and they find out that there's a reason behind their weirdness – albeit a hard to believe one. My favourites are when the superpowers are related to magic somehow (genetic mutants are cool and all but,,, nah) because magic.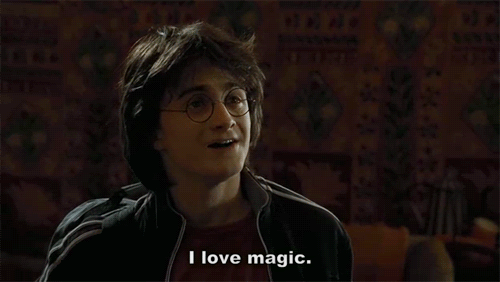 The most obvious thing to come to mind is Harry Potter – but instead of that, I'm going to recommend three other books that have this trope and are also A+ because I want to expand your horizons 🙂
---
what are some of your favourite cliches/tropes? will you go the ends of the earth to protect your OTP? Aren't book squads just the epitome of friendship goals?? AND ARE YOU A HUGE SAP LIKE ME???