Hello, my fellow gays (and non-gays) of the internet!
After a long overdue (and completely unannounced) hiatus, I have returned to this dusty little corner of the internet. What better to celebrate this arrival than some amazing pride recs? I may have abandoned all of you ("all" meaning my three loyal supporters), but I come bearing gifts. And those gifts happen to be a list of books and comics that have LGBTQ+ characters in them. We love representation! 
'Tis the month of June, and 'tis also the month of pride for us queer folks. After the Stonewall riots that took place in June, this month has been honoured by the LGBTQ+ community as a month to proud. So here are a bunch of beautiful works across different media, all of which contain ze gay in one way or another. I've tried to stick to things that involve the queer characters in a significant way, because we've all had enough of the funny gay best friend.
Prepare for a hella long post, with a word count of somewhere around 6500+. Told ya I'd make my return worth it.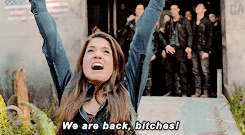 MIDDLE GRADE
When people think of queer books, their minds immediately jump to YA and NA. Well, there are loads of amazing MG books with queer characters! Which I think is great, because children getting healthy exposure to LGBTQ+ characters is something we often forget to consider. So, here are my middle grade book recs:
George by Alex Gino  
When people look at George, they think they see a boy. But she knows she's not a boy. She knows she's a girl.
George thinks she'll have to keep this a secret forever. Then her teacher announces that their class play is going to be Charlotte's Web. George really, really, REALLY wants to play Charlotte. But the teacher says she can't even try out for the part… because she's a boy.
With the help of her best friend, Kelly, George comes up with a plan. Not just so she can be Charlotte – but so everyone can know who she is, once and for all.
There are so many things to love in this book! First is, obviously, the overall positive and welcoming attitude the book has towards the trans community. It's just so heartwarming and pleasant and beautiful GAH I could scream about this for days. George herself was totally adorable, and I loved her friendship with Kelly! They're both so supportive of each other and Kelly is a mastermind, honestly. Obviously, the whole book wasn't all sunshine and rainbows. There were some hard parts and obstacles, too – but the overall story is so uplifting.
Trials of Apollo (series) by Rick Riordan
How do you punish an immortal?
By making him human.
After angering his father Zeus, the god Apollo is cast down from Olympus. Weak and disorientated, he lands in New York City as a regular teenage boy. Now, without his godly powers, the four-thousand-year-old deity must learn to survive in the modern world until he can somehow find a way to regain Zeus's favour.
But Apollo has many enemies—gods, monsters and mortals who would love to see the former Olympian permanently destroyed. Apollo needs help, and he can think of only one place to go… an enclave of modern demigods known as Camp Half-Blood.
I would be lying if I said that I did not have the urge to recommend all books by Rick Riordan. But that wouldn't be fair, since the first major gay arc only comes in in House of Hades. So I settled for this series (and the one below) – and yeah, the main theme of the books isn't LGBTQ+, but our main character is very openly bisexual. Or maybe pan? Eh. Anyway, there isn't much romance for Apollo, but we do get to see him pine for his old loves! (Also, Nico and Will. Just.) And later in the series, we also get lesbian power couple (and super moms) Emmie and Jo! Seriously, go read this. (But not unless you've read Heroes of Olympus!! Spoilers.)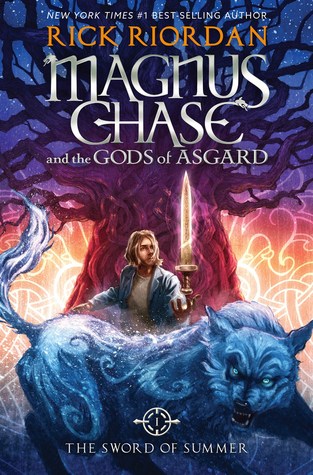 Magnus Chase and the Gods of Asgard by Rick Riordan
Magnus Chase has seen his share of trouble. Ever since that terrible night two years ago when his mother told him to run, he has lived alone on the streets of Boston, surviving by his wits, staying one step ahead of the police and the truant officers.
One day, Magnus learns that someone else is trying to track him down—his uncle Randolph, a man his mother had always warned him about. When Magnus tries to outmaneuver his uncle, he falls right into his clutches. Randolph starts rambling about Norse history and Magnus's birthright: a weapon that has been lost for thousands of years.
The more Randolph talks, the more puzzle pieces fall into place. Stories about the gods of Asgard, wolves, and Doomsday bubble up from Magnus's memory. But he doesn't have time to consider it all before a fire giant attacks the city, forcing him to choose between his own safety and the lives of hundreds of innocents. . . .
Sometimes, the only way to start a new life is to die.
Look, it's even more Rick Riordan! But seriously, did you expect me to make a list for queer MG books and not include his books? Because if you did, then you're so wrong. Anyway, the best way I can describe this series is a way more diverse version of Percy Jackson. (Also funnier, but I digress.) Magnus – our main character – is pansexual, there's a trans and genderfluid character introduced in the second book (Alex Fierro!), Magnus's best friends (Blitz and Hearth) are probably dating. Also, this doesn't count as queer rep, but Magnus's other best friend is Muslim! So yay for diversity all around. You can read this series with minimal knowledge of Percy Jackson, but for the full experience I'd recommend reading the other books 🙂
Sylvie and Carl have been friends since they were tiny children. They've always played together, eaten with each other's families, called each other boyfriend and girlfriend and deep down, Sylvie has always believed that they'd end up married to each other. They even have a magical fantasy world that belongs to them alone — and the glass hut where it's all created, at the bottom of Carl's garden. 
But as they become teenagers, things are starting to change. They each have different friends. Sylvie would still rather spend all her time with Carl. But Carl has a new friend, Paul, who is taking all his attention. And he seems much less happy to be called Sylvie's boyfriend. And in a game of spin the bottle, he avoids having to kiss her. Sylvie can tell his feelings have changed and that her plans for the future may be affected. But can she guess at the true reasons behind it all? A moving, compelling and delicately handled treatment of sexuality from the Children's Laureate.
I read this book when I was pretty young (like 10 years old) and it made me weep. Full on tears, man. It was one of the first books I'd seen any gay rep in and it was portrayed so goddamn beautifully I cried. Basically, Sylvie's been in love with Carl for ages. She thought Carl loved her, too, but turns out that he's gay. (He still loves her, just. Not in a romantic way.) The reason I was wary about picking this book up is because I thought it'd turn into the straight cis girl complaining about how all guys were either taken or gay – but it was something much better. Sylvie gets Carl, she knows that his sexuality isn't a choice or a curse. She's heartbroken, of course, but he's her best friend and she stands up for him. And I thought that was beautiful.
(Also, while Jacqueline Wilson is a middle grade author, I'd recommend this for readers who are at least 12?)
Gracefully Grayson by Ami Polonsky
Alone at home, twelve-year-old Grayson Sender glows, immersed in beautiful thoughts and dreams. But at school, Grayson grasps at shadows, determined to fly under the radar. Because Grayson has been holding onto a secret for what seems like forever: "he" is a girl on the inside, stuck in the wrong gender's body.
The weight of this secret is crushing, but leaving it behind would mean facing ridicule, scorn, and rejection. Despite these dangers, Grayson's true self itches to break free. Strengthened by an unexpected friendship and a caring teacher who gives her a chance to step into the spotlight, Grayson might finally have the tools to let her inner light shine.
Debut author Ami Polonsky's moving, beautifully-written novel shines with the strength of a young person's spirit and the enduring power of acceptance.
I haven't read this book yet, but I've heard so many amazing things about it! It feels a little similar to George, but a lot of people have said that the writing and overall mood of the stories are different. Also, Gracefully Grayson is set in sixth grade, while George is set in fourth grade. Basically, Grayson is a trans girl who wants to audition for the lead female role in a play but is scared of what everyone would say. The book talks about the bullying she faces, the friends she makes, and how everyone around her reacts – also, all the reviews I've read say that Grayson is an absolute cinnamon roll who deserves to be protected.
Marco Impossible by Hannah Moskowitz
Thirteen-year-old best friends Stephen and Marco attempt a go-for-broke heist to break into the high school prom and get Marco onstage to confess his love for (and hopefully steal the heart of) Benji, the adorable exchange student and bass player of the prom band. Of course, things don't always go according to plan, and every heist comes with its fair share of hijinks.
I've read one (1) other book by Hannah Moskowitz, and it was beautiful and heartbreaking and made me cry. Not!! This book!! Guys, this book actually has a HAPPY ENDING. It's so adorable?? Marco and Stephen's friendship is genuinely adorable and the way the author captured the awkward balance between child and teenager is very realistic – guys, just read this book. The only way I can describe it is utterly charming. Also you might get diabetes from all the sweet fluffiness.
The Pants Project by Cat Clarke
Whoever wrote the uniform policy decided (whyyy?) that girls had to wear skirts, while boys were allowed to wear pants.

Sexist. Dumb. Unfair.

"Girls must wear a black, pleated, knee-length skirt."
I bet I read those words a hundred times during summer vacation. The problem wasn't the last word in that sentence. Skirt wasn't really the issue, not for me. 
The issue was the first word. Girls.

Here's the thing:
I may seem like a girl, but on the inside, I'm a boy.
Syd has been telling me to read this book for AGES and I REALLY REALLY WANT TO. IT SOUNDS AMAZING. But the book is way too expensive for me to buy it oops. (Ah, the struggles of being an international reader. I hate import fees.) Anyway, just a shout-out to them because otherwise this book wouldn't be on the list. All the reviews I've read say that it's authentic and funny!
YOUNG ADULT
the popular, big name ones
There are a bunch of these books (yay rep!!) so here are some of my favourites – ones that I have read and treasured and loved. Go forth, my gaybies, and happy reading.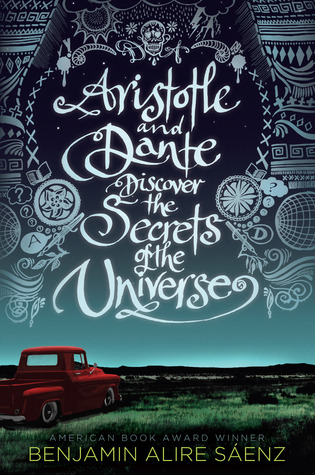 Aristotle and Dante Discover the Secrets of the Universe by Benjamin Alire Saenz
Aristotle is an angry teen with a brother in prison. Dante is a know-it-all who has an unusual way of looking at the world. When the two meet at the swimming pool, they seem to have nothing in common. But as the loners start spending time together, they discover that they share a special friendship—the kind that changes lives and lasts a lifetime. And it is through this friendship that Ari and Dante will learn the most important truths about themselves and the kind of people they want to be.
I recommend this book in every goddamn rec list I make. It was my favourite book of 2017, after all. There are so many reasons why I love Ari & Dante so much: for one, the writing is beautiful. It just flows across the page like water, and it does so without being overly pretentious. Also, I would willingly take a bullet for both Ari and Dante. They deserve the world, okay? They deserve the world and everything in it. God. I can't even talk about this book in coherent sentences. I spent one hour after reading this just staring at the ceiling and thinking. 
(Note: as much as I love this book, the author has said some really rude things to fans and reviewers; calling them out for interpretations of his books. Just something to keep in mind.)
Simon vs the Homo Sapiens Agenda by Becky Albertalli
Sixteen-year-old and not-so-openly gay Simon Spier prefers to save his drama for the school musical. But when an email falls into the wrong hands, his secret is at risk of being thrust into the spotlight. Now Simon is actually being blackmailed: if he doesn't play wingman for class clown Martin, his sexual identity will become everyone's business. Worse, the privacy of Blue, the pen name of the boy he's been emailing, will be compromised.
With some messy dynamics emerging in his once tight-knit group of friends, and his email correspondence with Blue growing more flirtatious every day, Simon's junior year has suddenly gotten all kinds of complicated. Now, change-averse Simon has to find a way to step out of his comfort zone before he's pushed out—without alienating his friends, compromising himself, or fumbling a shot at happiness with the most confusing, adorable guy he's never met.
Another book I can't get enough of! Honestly, I'm sure everyone and their grandma's heard of either this or the movie (Love, Simon!! Go watch it!!) by now. If not, here are some reasons you should read it: soft gays! happy gays! gays getting what they deserve!! Also, lots of food. And Oreos. And theatre kids. GAH. Read it, okay? I could scream about Simon vs for daysssss. 
I'll Give You the Sun by Jandy Nelson
At first, Jude and her twin brother Noah, are inseparable. Noah draws constantly and is falling in love with the charismatic boy next door, while daredevil Jude wears red-red lipstick, cliff-dives, and does all the talking for both of them. 
Years later, they are barely speaking. Something has happened to change the twins in different yet equally devastating ways . . . but then Jude meets an intriguing, irresistible boy and a mysterious new mentor. 
The early years are Noah's to tell; the later years are Jude's. But they each have only half the story, and if they can only find their way back to one another, they'll have a chance to remake their world. 
This book made me feel. I was completely unprepared for the avalanche of emotions I got from it – but also entirely welcoming. After finishing it, I just walked around in a haze of dreams and imagination and I was just completely wrapped up in my thoughts. The writing is just so prose-y and beautiful, and the characters, while not always likeable, are so authentic and real. The only word I can use to describe this book is gorgeous.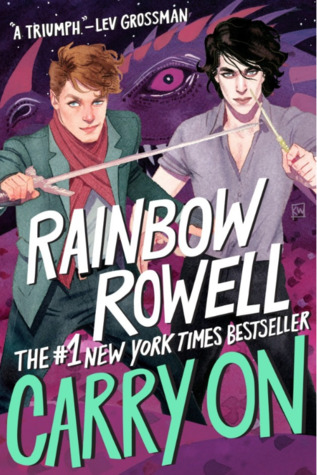 Carry On by Rainbow Rowell
Simon Snow is the worst Chosen One who's ever been chosen.
That's what his roommate, Baz, says. And Baz might be evil and a vampire and a complete git, but he's probably right.
Half the time, Simon can't even make his wand work, and the other half, he starts something on fire. His mentor's avoiding him, his girlfriend broke up with him, and there's a magic-eating monster running around, wearing Simon's face. Baz would be having a field day with all this, if he were here — it's their last year at the Watford School of Magicks, and Simon's infuriating nemesis didn't even bother to show up.
If I had to describe this book in one sentence – Harry Potter but gayer. Also more diverse! The gayer the merrier!!! And, yeah, I was wary of it at first but Rainbow Rowell is so good at subverting tropes and giving old characters a new twist!! Also, the characters. Not to be dramatic, but I would die for Simon and Baz. (Listen, shipping the (ง︡'-'︠)ง one with the (◡‿◡✿) one is the reason I was put on this earth.) And Penelope!! Literally the only Indian character in a fantasy novel that I have ever liked!!!! Carry On is an entertaining as hell ride and I love it so much.
(Note: I felt like the bi/pan-erasure is something I should mention. Simon's attraction towards Agatha is shown, but at the end he's established as gay ??? what ?????)
History is All You Left Me by Adam Silvera
When Griffin's first love and ex-boyfriend, Theo, dies in a drowning accident, his universe implodes. Even though Theo had moved to California for college and started seeing Jackson, Griffin never doubted Theo would come back to him when the time was right. But now, the future he's been imagining for himself has gone far off course. 
To make things worse, the only person who truly understands his heartache is Jackson. But no matter how much they open up to each other, Griffin's downward spiral continues. He's losing himself in his obsessive compulsions and destructive choices, and the secrets he's been keeping are tearing him apart. 
If Griffin is ever to rebuild his future, he must first confront his history, every last heartbreaking piece in the puzzle of his life.
Any Adam Silvera book = heartbreak. It's a fact of life. I don't make the rules. And of all his books, this is the one which affected me the most – History is All You Left Me just overflows with heartache and tenderness. I cried. A lot. Why is such a sad book on this pride rec list, you ask? Because the representation of gayness is healthy and positive. And the "history" parts of the book are not as heartbreaking! Most of them had me laughing really, really loud. Oops.
lesser known but just as good
How to Make a Wish by Ashley Herring Blake
All seventeen year-old Grace Glasser wants is her own life. A normal life in which she sleeps in the same bed for longer than three months and doesn't have to scrounge for spare change to make sure the electric bill is paid. Emotionally trapped by her unreliable mother, Maggie, and the tiny cape on which she lives, she focuses on her best friend, her upcoming audition for a top music school in New York, and surviving Maggie's latest boyfriend—who happens to be Grace's own ex-boyfriend's father.
Her attempts to lay low until she graduates are disrupted when she meets Eva, a girl with her own share of ghosts she's trying to outrun. Grief-stricken and lonely, Eva pulls Grace into midnight adventures and feelings Grace never planned on. When Eva tells Grace she likes girls, both of their worlds open up. But, united by loss, Eva also shares a connection with Maggie. As Grace's mother spirals downward, both girls must figure out how to love and how to move on.
Another book that has been on my TBR for the longest time! Alas, money problems. I'll start with saying that I don't have a single friend who didn't like this book. All of them left raving reviews talking about how much they connected with the story, the characters, the plot. So, uh, listen to them and read the book!! (Yeah, I promise I'll get around to reading this soon enough.)
Let's Talk About Love by Claire Kann
Alice had her whole summer planned. Non-stop all-you-can-eat buffets while marathoning her favorite TV shows (best friends totally included) with the smallest dash of adulting–working at the library to pay her share of the rent. The only thing missing from her perfect plan? Her girlfriend (who ended things when Alice confessed she's asexual). Alice is done with dating–no thank you, do not pass go, stick a fork in her, done.
But then Alice meets Takumi and she can't stop thinking about him or the rom com-grade romance feels she did not ask for (uncertainty, butterflies, and swoons, oh my!).
When her blissful summer takes an unexpected turn, and Takumi becomes her knight with a shiny library employee badge (close enough), Alice has to decide if she's willing to risk their friendship for a love that might not be reciprocated—or understood. 
*hides* yes, okay, I haven't read this either. Deep, inflicted sigh. Considering how hype I am for any kind of a-spec rep at all, I really should read it. Speaking of a-spec rep: everyone I know said it was done extremely well! The book gives a lot of importance to how love does not equal sexual attraction or desire – something that most books erase. Also, Alice is biromantic! God, so many good reasons to read this book.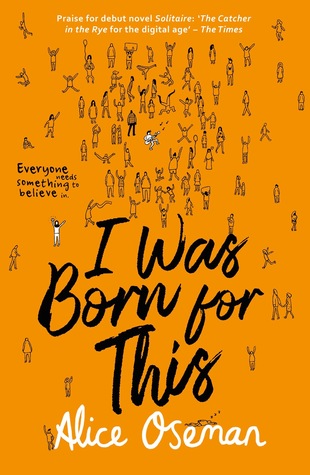 I Was Born for This by Alice Oseman
For Angel Rahimi, life is only about one thing: The Ark – a pop-rock trio of teenage boys who are currently taking the world by storm. Being part of The Ark's fandom has given her everything – her friendships, her dreams, her place in the world.
Jimmy Kaga-Ricci owes everything to The Ark too. He's their frontman – and playing in a band is all he's ever dreamed of doing. It's just a shame that recently everything in his life seems to have turned into a bit of a nightmare.
Because that's the problem with dreaming – eventually, inevitably, real life arrives with a wake-up call. And when Angel and Jimmy are unexpectedly thrust together, they will discover just how strange and surprising facing up to reality can be.
Alice Oseman is one of my favourite authors of all time. I high-key wanted to rec Radio Silence on this list as well, but the post is long enough as is. (Read Radio Silence, by the way.) This book is just so casually diverse my heart might burst?? One of our MCs is a Muslim hijabi girl (who's questioning her sexuality!) and the other is a gay trans boy. Also, the portrayal of fandom and stan twitter was so accurate?? Throughout reading the entire book I was either smiling really wide or crying because my babies were hurt. Please read it.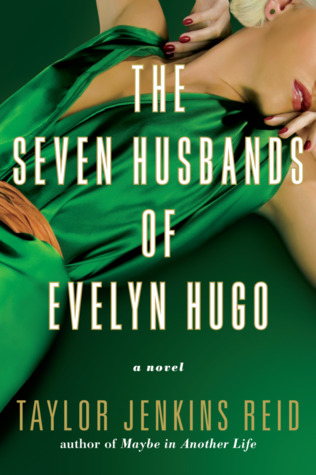 The Seven Husbands of Evelyn Hugo by Taylor Jenkins Reid
Evelyn Hugo is finally ready to tell the truth about her glamorous and scandalous life. But when she chooses unknown magazine reporter Monique Grant for the job, no one in the journalism community is more astounded than Monique herself. Why her? Why now?
Monique is not exactly on top of the world. Her husband, David, has left her, and her career has stagnated. Regardless of why Evelyn has chosen her to write her biography, Monique is determined to use this opportunity to jumpstart her career.
Summoned to Evelyn's Upper East Side apartment, Monique listens as Evelyn unfurls her story: from making her way to Los Angeles in the 1950s to her decision to leave show business in the late 80s, and, of course, the seven husbands along the way. As Evelyn's life unfolds through the decades—revealing a ruthless ambition, an unexpected friendship, and a great forbidden love—Monique begins to feel a very a real connection to the actress. But as Evelyn's story catches up with the present, it becomes clear that her life intersects with Monique's own in tragic and irreversible ways.
After hearing Syd and El scream about this 24/7, I finally read this book! And that lead to a lot of heartbreak!! And crying! And screaming! *cough* I can't express in coherent words how much this book affected me – honestly, it was such a wild ride from beginning to top. I feel like I've witnessed cosmic justice – for the majority of her life, Evelyn just focused on how to get more. And then she finally got to be happy with her wife but it wasn't enough time and this book makes me so goddamn emotional- 
Just read it, guys. You won't regret it.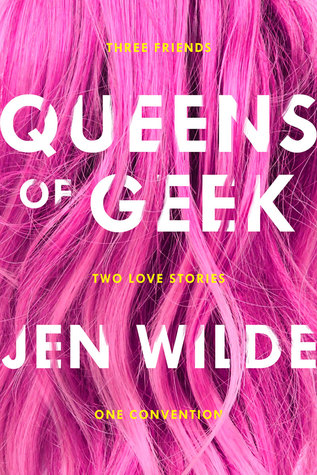 Charlie likes to stand out. She's a vlogger and actress promoting her first movie at SupaCon, and this is her chance to show fans she's over her public breakup with co-star Reese Ryan. When internet-famous cool-girl actress Alyssa Huntington arrives as a surprise guest, it seems Charlie's long-time crush on her isn't as one-sided as she thought.
Taylor likes to blend in. Her brain is wired differently, making her fear change. And there's one thing in her life she knows will never change: her friendship with her best guy friend Jamie—no matter how much she may secretly want it to. But when she hears about a fan contest for her favorite fandom, she starts to rethink her rules on playing it safe.
Honestly, I did not stop squealing throughout the entirety of the book. I mean, what's not to love? You have fabulous bi rep and romances, absolutely well-written representation of anxiety and other mental illnesses, honest representation of what life is like being internet famous, and a lot of geeking out. (The book is literally about a fandom convention.) It was such an adorable book!!
indie books because they deserve so much more love
How To Repair A Mechanical Heart by J.C. Lillis
Eighteen-year-old Castaway Planet fans Brandon and Abel hate bad fan fiction—especially when it pairs their number-one TV crushes of all time, dashing space captain Cadmus and dapper android Sim. As co-runners of the Internet's third most popular Castaway Planet vlog, they love to spar with the "Cadsim" fangirls who think Cadmus will melt Sim's mechanical heart by the Season 5 finale. This summer, Brandon and Abel have a mission: hit the road in an RV to follow the traveling Castaway Planet convention, interview the actors and showrunner, and uncover proof that a legit Cadsim romance will NEVER, EVER HAPPEN.
A Brandon and Abel romance: also not happening. Brandon's sick of his struggle to make "gay and Catholic" compute, so it's safer to love a TV android. Plus Abel's got a hot new boyfriend with a phoenix tattoo, and how can Brandon compete with that? But when mysterious messages about them start popping up in the fan community, they make a shocking discovery that slowly forces their real feelings to the surface. Before they get to the last Castaway Planet convention, Brandon's going to find out the truth: can a mechanical heart be reprogrammed, or will his first shot at love be a full system failure?
This is DEFINITELY one of my new favourite books. The character dynamics were done so well, the writing was also pretty amazing (I liked how formatting played a big part?), the relationships, and also the internalized homophobia was portrayed pretty realistically. Also Brandon! And Abel! I love them so much!! I love how we saw all the ups and downs of their relationship, how they worked through it and understood each other. I'm always a bit wary whenever I read a book about fanfiction because what if it's weird and fetish-y? This was NOT weird at all. I feel like the author understood the concept of fandom and fic pretty well!
I'm so hype for the sequel!! F/F romance, sign me the hell up.
Ten years ago, Peter Pan left Neverland to grow up, leaving behind his adolescent dreams of boyhood and resigning himself to life as Wendy Darling. Growing up, however, has only made him realize how inescapable his identity as a man is.
But when he returns to Neverland, everything has changed: the Lost Boys have become men, and the war games they once played are now real and deadly. Even more shocking is the attraction Peter never knew he could feel for his old rival, Captain Hook—and the realization that he no longer knows which of them is the real villain.
This has been on my TBR for so long, I definitely need to get around to reading it soon! Honestly, just the words "Peter Pan", "queer", and "retelling" should be enough to get anyone to pick this up. To be honest, I always felt like Hook and Peter needed to get together? The TENSION between them. Also the story just feels so refreshing?? The fact that Peter's assigned identity is Wendy makes me want to read this asap.
Future Leaders of Nowhere by Emily O'Beirne
Finn and Willa have been picked as team leaders in the future leader camp game. The usually confident Finn doesn't know what's throwing her more, the fact she's leading a team of highly unenthusiastic overachievers or coming up against fierce, competitive Willa. And Willa doesn't know which is harder, leaving her responsibilities behind to pursue her goals or opening up to someone.
Soon they both realise that the hardest thing of all is balancing their clashing ideals with their unexpected connection. And finding a way to win, of course.
Another book I definitely need to hurry up on reading! Again, everyone says this is adorable and sweet and enjoyable – loads of diverse characters, a super sweet sapphic romance, and kickass female leads. Gah, I really want this book.
(Note: someone mentioned that the book had this one line – "But, you know, it is nice to know that you're human. And that you have good taste. That Finn's a cutie." Which is… not okay? Stating that if you don't experience attraction you're not human is wrong on so many levels?? It's also really hurtful to people on the ace/aro spectrum.)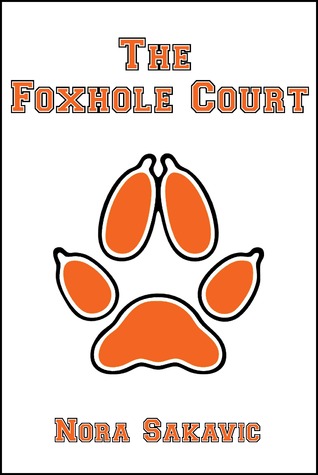 All for the Game (series) by Nora Sakavic
Neil Josten is the newest addition to the Palmetto State University Exy team. He's short, he's fast, he's got a ton of potential—and he's the runaway son of the murderous crime lord known as The Butcher.
Signing a contract with the PSU Foxes is the last thing a guy like Neil should do. The team is high profile and he doesn't need sports crews broadcasting pictures of his face around the nation. His lies will hold up only so long under this kind of scrutiny and the truth will get him killed.
But Neil's not the only one with secrets on the team. One of Neil's new teammates is a friend from his old life, and Neil can't walk away from him a second time. Neil has survived the last eight years by running. Maybe he's finally found someone and something worth fighting for.
HI MY NAME IS ARIS AND I LOVE THIS SERIES WITH ALL OF MY HEART. (You're probably not surprised by this rec, seeing how I manage to include it everywhere.) It's so amazing though!!! My words are not enough to describe my love for it!! Neil is demisexual and gay (I think?), and the entire team is so diverse and wonderful wow. Be careful, though, there are a lot of trigger warnings for this series which you can find over here. Take care ok!!!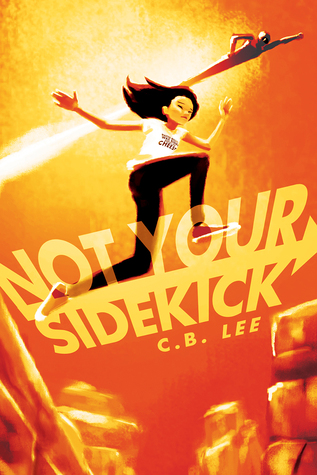 Not Your Sidekick by C.B. Lee
Welcome to Andover… where superpowers are common, but internships are complicated. Just ask high school nobody, Jessica Tran. Despite her heroic lineage, Jess is resigned to a life without superpowers and is merely looking to beef-up her college applications when she stumbles upon the perfect (paid!) internship—only it turns out to be for the town's most heinous supervillain. On the upside, she gets to work with her longtime secret crush, Abby, who Jess thinks may have a secret of her own. Then there's the budding attraction to her fellow intern, the mysterious "M," who never seems to be in the same place as Abby. But what starts as a fun way to spite her superhero parents takes a sudden and dangerous turn when she uncovers a plot larger than heroes and villains altogether.
Queer superheroes!!! That's literally all I want!!!! Honestly, the best part about this book is how diverse it is – our MC is bisexual and Vietnamese-American, and one of her best friends is trans! (Bells has his own book; it's next in the series. Read it ok!!) Also the plot is extremely well fleshed out, and there was no infodumping throughout the book – so that's a plus point. Seriously, go read the Sidekick Squad series.
WEBCOMICS + INDIE COMICS

Please give more love to online creators!! They're usually so talented and creative – so are indie creators! Here are some of my favourite webcomics/self-published comics that I've read and cherished.
Always Human by Ari Walkingnorth
This is so cute and sapphic and beautiful!! The art is actually stunning, the story is written so well, and the world that everything is set in is so well planned and interesting. Not to mention all the complex relationships throughout?? ALSO THE MUSIC. There's music playing in the background of all chapters and it just fit in so well with the mood of the whole comic?? You can read it here.
Heartstopper by Alice Oseman
THIS IS ONE OF THE CUTEST AND MOST ADORABLE THINGS I HAVE EVER READ MY GAY LITTLE HEART IS BURSTING WITH JOY!!!! GAH IT'S THE WEBCOMIC EQUIVALENT OF SMOOSHING YOUR FACE INTO A LITTLE PUPPY. It's about Charlie, a highly-strung, openly gay boy who overthinks everything, and Nick, a cheerful and soft rugby player – and they meet at an all boys English grammar school. Friendship! Drama! Love! You can read it here or on the Tapas app!!
The Backstagers by James Tynion IV and Rian Sygh
This was super cute and funny and light!! All the characters are so diverse and unique, it's amazing ❤ It's about Jory (who is, by the way, gay) (ha that rhymes), and the new friends he makes when he ventures backstage at the drama club! What happens behind the curtain is, quite literally, magic. They find an underground world and go on adventures and it's really beautiful I can't summarise for shit!!
Princess Princess Ever After by Katie O'Neill
This is a really short webcomic (read it here) but it's so soft and fluffy ahh!! Give me all that sapphic princess goodness. Sadie is the classic princess-in-the-tower who's sick of all the princes that keep trying to save her (and fail). Eventually, princess Amira comes along – and manages to save her! It's genuinely so funny; I cracked up so many times throughout the comic. Also, the art is absolutely gorgeous and I love the character designs a whole lot.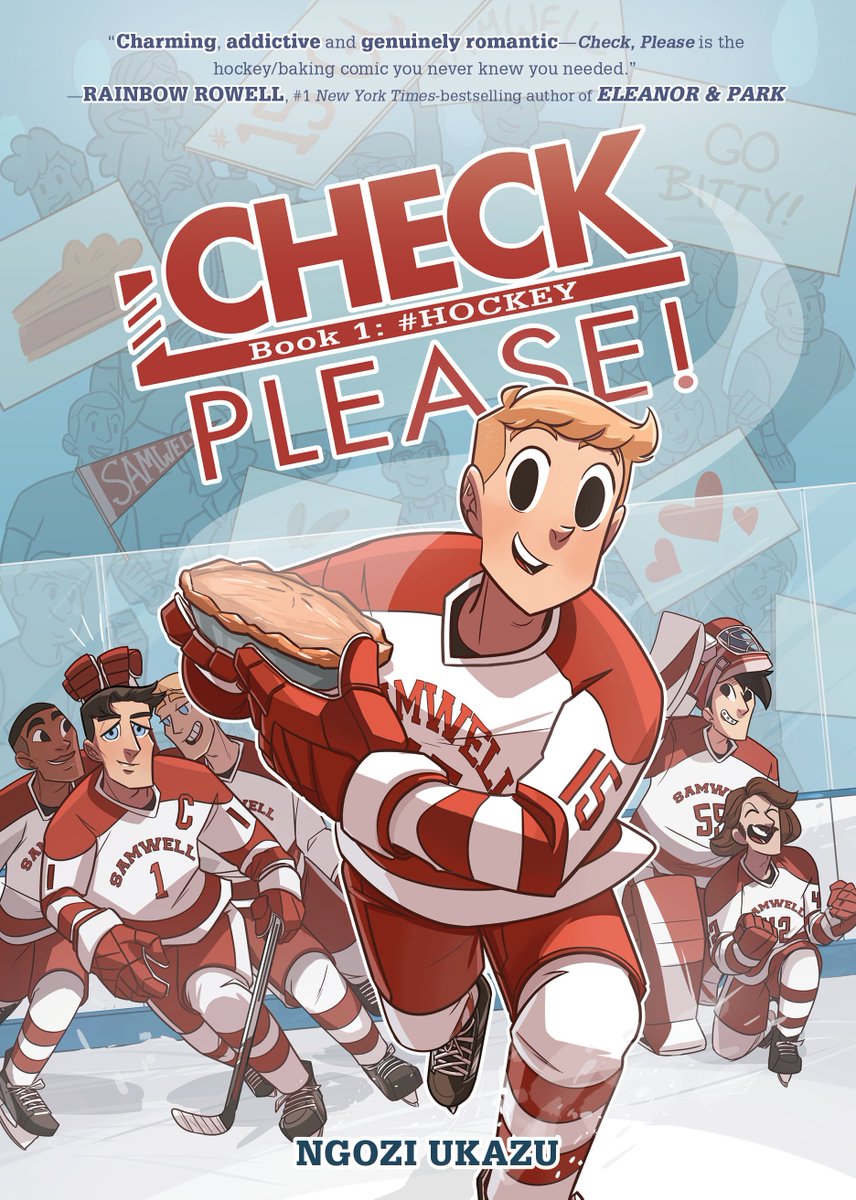 Check, Please! by Ngozi Ukazu
This is the first webcomic I ever read (here) and it's so good wtf!! I'm not completely caught up yet, but it's a story about hockey and college and bros and finding yourself! Eric Bittle is a former figure skater, a vlogger, and lover of all baked goods. (Also he's gay.) He's starting hockey in his freshman year at university – but it's nothing like the hockey he played back home. There's checking. The comic is really funny and all the characters are super diverse and awesome; 11/10 would recommend!!
MARVEL
So if you're friends with me on goodreads (hi add me), you probably know that I've been binge-reading a lot of Marvel (and DC!) comics recently. Something I noticed is how diverse they are compared to the movies?? Here's a list of the comics I've loved a whole lot recently:
Angela: Queen of Hel written by Marguerite Bennett
Angela finally got a series of her own!! She's Thor's long-lost sister, who was raised by angels due to Reasons (read Original Sin: Thor and Loki if you want more Angela). She's also a lesbian, and a member of the Guardians of the Galaxy. We love an icon!
Anyway, in this comic, she literally becomes queen of Hel so she can save her girlfriend. While we're talking about her girlfriend, her name is Sera and she's a trans lesbian and she's one of the wittiest narrators ever. This is honestly so much better than Asgard's Assassin, definitely read it!
Young Avengers written by Kieron Gillen
Yes, the originals are great, but the reboot is so much more diverse! And so well written! And the art! All the character designs are to die for, and while the plot arcs leave something to be desired, it's pretty amazing overall! For a start, no one on the team is straight. (No, seriously. It's canon.)
Billy (Wiccan; son of the Scarlet Witch) and Teddy (Hulkling) are both gay and dating and their relationship makes me so happy! America Chavez is Latina, has two moms, and is also a kickass lesbian who flirts with Kate (Hawkeye junior!) constantly. Nohvarr (Marvel Boy) comes from a planet where people don't really consider gender during attraction, and Loki's genderfluid and pansexual! The gay agenda is alive and thriving.
America written by Gabby Rivera
MISS AMERICA FINALLY GOT HER OWN COMIC SERIES! It's queer as hell and I love it so much. I've only read one volume so far but it seems amazing – America's going to college! I love the plot and America's just as badass as usual; the art was amazing and so detailed. Honestly, I'm just here for the Kate/America banter. (Pro tip: read the issues while listening to 3OH!3 songs. Trust me, they all fit in perfectly with the theme.)
(Also, have you heard of Juliet Takes A Breath? It's a novel about a lesbian teen and the same author wrote this comic!)
DC
yes, DC has benched some of its best queer POC before, but the writers have been improving so much in recent years – and they've had loads of positive LGBTQ+ rep!
Batwoman (2011) written by J.H. Williams III
The most iconic lesbian superhero of all time! There have been loads of editions of Batwoman comics, but this is by far my favourite – it's also the one where Kate and Maggie get engaged. God, they're so powerful. The plot for this is like a sequel to Elegy, but you can understand it without reading that! Also I love the way that Batwoman treats her sidekick, she's so goddamn iconic wow.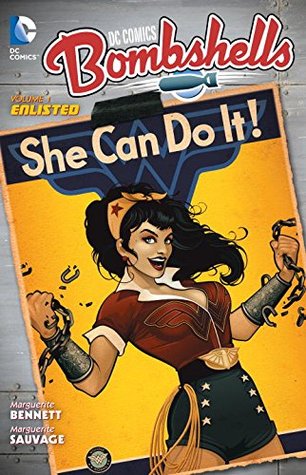 Bombshells written by Marguerite Bennett
This series will forever be remembered as the iconic comics that made Harley Quinn/Poison Ivy canon girlfriends. Other than that, they also have Batwoman! More Kate/Maggie moments! Honestly, this is a great comic series for women empowerment and queer rep. (Although the Wonder Woman sections are a bit… cliched.)
Midnighter and Apollo written by Steve Orlando
DC's first comic series with a gay couple in the title! They're both mainstream heroes and both gay; and this comic essentially an Orpheus and Eurydice retelling. Apollo has been sent to the Underworld by a mysterious villain and Midnighter needs to bring him back – cue intense fight scenes and my OTP being adorable. It's well-drawn, well-written, and so so good.
aaand that's a wrap! This is the longest fucking post I have ever written. (Although a lot of those words came from copying book summaries.) I hope that y'all appreciate the efforts I went to – it's much harder to find LGBT-lead comics than it seems. Most queer characters in mainstream comics are side characters. Deep, affected sigh. But, hey – at least we're getting some amount of rep!
Also: quick shout-out to my actual parent Tan for helping me with a bunch of research for this rec list!! They're an absolute angel and I love them more than anything 💕💗
---
Happy pride month, once again!! How was your pride month? Have you read any of the books in this rec list? Which of them are you most excited to read? Do you prefer comics or movies? TALK TO ME. Fill me in on everything I missed!